Earlier this month, Google announced that it will transfer all websites over to Mobile-First Indexing by September 2020. This comes hot on the heels of an update to its Mobile-First Indexing guide earlier this year. This makes it not only important – but vital – for you to ensure your website is optimised for mobile: or risk obscurity in search engines results pages
The ever growing importance of mobile and related optimisation techniques means more attention should be given to the mobile experience and mobile search regardless of your industry.
While brands have mostly come to terms with mobile, there are a surprising number still providing a subpar experience. Mobile is still growing in importance, and it's vital for us to understand how we should be looking to optimise in order to give us the best chances of success.
Your "Mobile-First Indexing Guide 2020" eBook includes chapters on:
Access and render
Desktop=Mobile
Structured data
Ads, videos and visual content
Additional best practices
Troubleshooting
Know someone who needs a little help with mobile performance? Share this with them!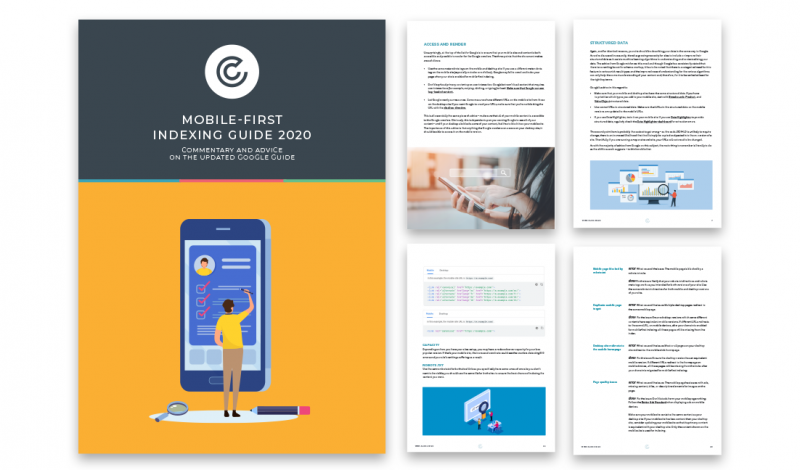 Google made a fairly bold move when it made clear that mobile was to be considered the main experience for all brands – while the search data had been showing a shift to mobile for a while, the purchase data has lagged behind. However, there's growing evidence (no doubt somewhat helped along by Google's emphasis) that mobile is likely to be the primary device in all areas.
We have come, whether wisely or not, to trust our mobile devices – consumers have pushed for more security, they have driven improvements in usability through purchase decisions, and as such we use our mobile devices in every aspect of our lives. To give brands the best chance of succeeding in a predominately mobile centred world, we need to be delivering the best possible experience.
Why wait? Let's get started…