With the right research and targeting, your content can bring success. This workbook aims to provide you with the knowhow to do so and some tasks to complete.
We have a lot of resources we've written to try to improve general knowledge of certain aspects of and tactics, techniques and practices in search and digital marketing, but our workbooks are a little different – and we're still learning ourselves. We're attempting to produce resources which not only provide insight and information, but which will leave you with something concrete at the end.
Here we've tried to put together some activities which will help you to improve your content production and your content performance, with each task set up to follow a logical process that results in a piece of targeted, relevant content which is unique to your brand and useful to your audience.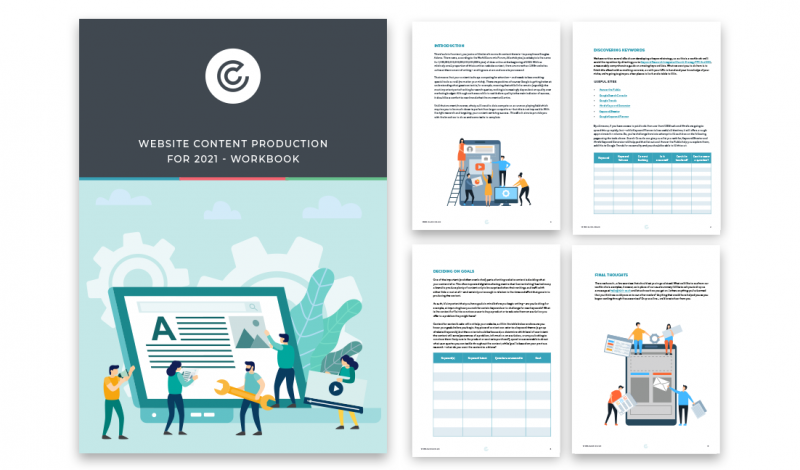 The 'Website Content Production for 2021 Workbook' includes sections on:
Discovering keywords
Deciding on goals
Writing for robots
Analysis and improvement
Know someone looking to update their content? Why not share this report with them via social media!
2021, while representing a new and uncertain year, does present some opportunities to refresh – if only for the sake of our own work. We have an opportunity to draw a line under 2020 and adopt fresh practices and approaches to help us move forward. We hope this workbook will provide the necessary information and set the right tasks to help you remodel your content and content production for the new year.
So, whether you're just starting out with your new business, or are looking to refresh onsite content to boost your rankings and improve your site's overall performance, this eBook should offer what you need to take your next step. We've spent decades doing this work – but these workbooks are a relatively new endeavour for us, so let us know how you get on and what you need to make this workbook better.