With a global market share of search consistently calculated as more than 85%, Google is an ideal platform for advertisers that want to reach the largest possible audience – but not only that, with an expansive and growing offering of ad varieties, extensions, targeting and more, Google Ads is the most well rounded paid search platform available today
---
Formerly known as Google AdWords, Google Ads is the proprietary Google advertising platform offering ad placement options across display, search, partner sites and more than 170k sites running Google Custom Search. Google Ads is a popular advertising platform for many modern marketers, perhaps because its it puts you in control of how much you spend on each campaign; you will never pay more than what you think each click, acquisition or impression is worth to your business.
On the Google Ads platform, if the keywords that you've selected for a campaign match what a user is searching for on Google, your ad can appear alongside or above Google's search results. This level of visibility will increase the reach of your campaigns and should drive a higher conversion rate as a result. Additionally, the visibility on Google's partner websites further increases exposure of your brand.
---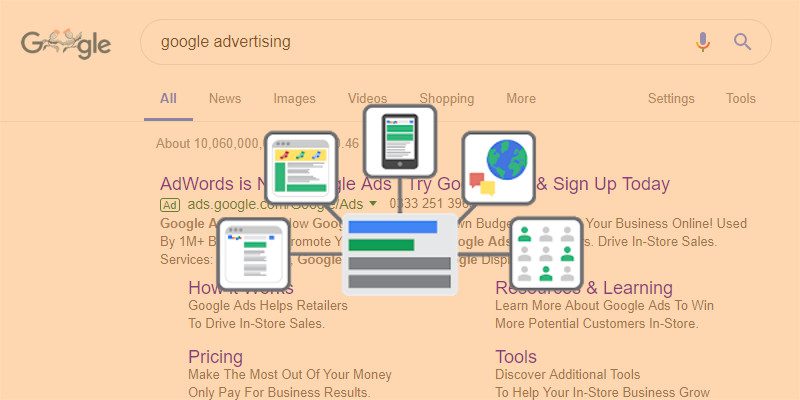 ---
Google Ads functions thanks to a snippet of code placed prior to the closing < /head > tag of your website which – as with Google Analytics – allows for the placing of cookies, the tracking of consumers and the in-depth reporting of all activity on your site pertaining to your Google Ads spend. For information on setting up your Google Ads account, you can use our handy walkthrough: 'Setting up Google Ads'.
The position of your ads in search is calculated using an algorithm that takes in to account the quality of your ads and the maximum bid you have set for a click; this is then used to generate a score which is used in a live auction during each appropriate search against direct competition for your chosen keyword to decide where your ad will rank. This position will then determine your 'click share', with ads at the top of the page receiving more than those at the bottom, and those at the top of the group outdoing the rest of those in that group.
---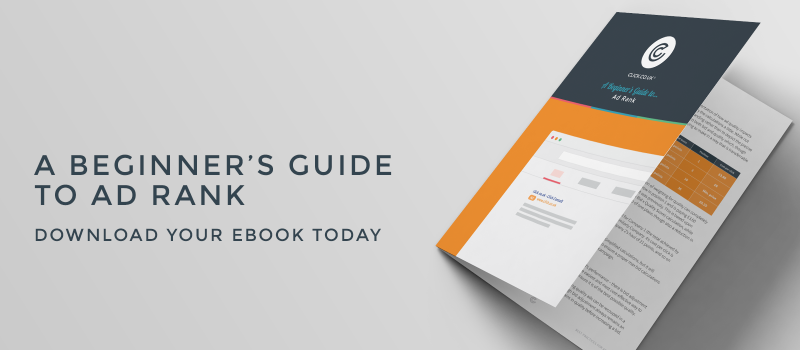 ---
Ads are sorted in to ad groups and campaigns which will be allocated to a set of keywords that are important to your brand (both those pertaining specifically to the brand name and those which are relevant to their products and services). You can take a look at how to determine your keyword targets using our companion eBook 'Developing A Keyword Strategy'.
With Google Ads offering ever more intricate targeting options and the various API requests and script options available to refine your ads and report on your performance, Google Ads should absolutely be a major part of the marketing mix for any brand looking to succeed online, offering the possibility of quick and lasting results for advertisers with a fantastic ROI.
For more information on paid search in general, why not check out our 'PPC Uncovered: An Advanced Guide to Paid Search' series of eBooks?
---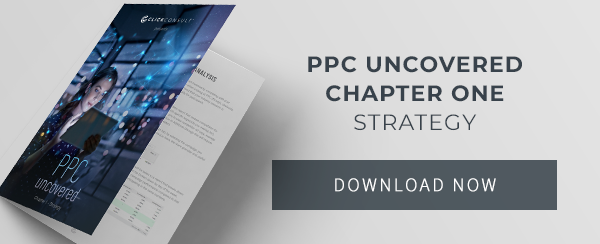 Request your free PPC review

covering 20+ areas from a Premier Google Partner
Associated Services to Google Ads (formerly AdWords) Platform
We use cookies to give you the best experience on our website. If you continue without changing your cookie settings, we assume that you consent to our use of cookies on this device. You can change your cookie settings at any time but if you do, you may lose some functionality on our website. More information can be found in our Cookie Info and Privacy Policy.