Click Consult reviews 5 viral marketing campaigns and how to steal their strategies
Nov 20th, 2014
There were some pretty annoying online trends that went viral this year. #Using #a #hashtag #before #every #word, twerking videos and Miley Cyrus in general, to name just three
---
With around 100 hours of video footage uploaded to YouTube every 60 seconds, 4.75 billion pieces of content shared on Facebook every 24 hours and 500 million 140-character micro messages tweeted per day, a marketing campaign that cuts through the clutter takes a clever – albeit simple – idea and skilful execution. From big budget to small scale ads, here are five of my favourite recent viral marketing campaigns and the strategies that helped make them so successful.
1. John Lewis. Monty the Penguin (and The Bear and the Hare)
Last week, John Lewis released its annual Christmas advert starring Monty the Penguin. Just 90 minutes after the advert first graced our screens, it was trending on Twitter in the UK. Within ten hours, the ad had been viewed over 1.25 million times on YouTube. Now, the retail giant's plush Monty the Penguin toy is listed on eBay accompanied by a whopping £499 price tag, due to such high demand. That's marketing at its finest.
You might also remember last year's The Bear and the Hare Christmas campaign from John Lewis, which beautifully conveys the heart-warming story of the hare who woke its hibernating bear friend so they could share Christmas together. The animated tale encouraged over 70,000 mentions on social media, thrashing the brand's competitor Marks & Spencer, which received just under 15,000 shares of its 'Magic & Sparkle' campaign (source: Media Measurement). Yet another online marketing success story for John Lewis.
Steal the strategy:
Build hype: Before Monty the Penguin took the social media world by storm, John Lewis showcased mysterious Monty the Penguin adverts on the London Underground and published teasers across social media to get fans excited about its latest Christmas ad. It worked…
Morning Twitterers!!! You can relax now. #MontyThePenguin is here! Is this thing on? Hello.. Hello.. #tapsmicrophone pic.twitter.com/DP8XhMpdGC

— Monty The Penguin (@MontyThePenguin) November 6, 2014
Blogger outreach: To help create hype around the Christmas campaign, John Lewis implemented a blogger outreach strategy, sending Monty the Penguin toys to influential fashion, beauty and lifestyle bloggers. In turn, the bloggers started tweeting using the #MontyThePenguin hashtag, which spread the message to their large, engaged audiences. Soon, Monty the Penguin toys were cropping up all over social…
Make the most of social media: John Lewis took advantage of its readily engaged social media following, premiering the Monty ad on Facebook, YouTube, Twitter and Google+.
Strong branding: After the launch of the Christmas advert, the John Lewis website and social media accounts were re-branded to reflect the Christmas campaign.
Extended story-telling: Monty's story didn't end once the advert did. Monty now has his own Twitter account, which documents his day-to-day life and of course, his ongoing quest for love…
Online and offline marketing: John Lewis integrates online and offline marketing seamlessly. Alongside the obvious online activities, the brand continues to build hype offline too, with a Monty-themed winter garden and the Monty the Penguin toys.
Less is more: Subtlety is key to this campaign – there's no hard sell, no John Lewis products being pushed in front of you – just a simple, heart-warming story. Ultimately, this strategy has quietly positioned John Lewis as the go-to Christmas shopping destination this year.
---
2. The ALS Ice Bucket Challenge
June 2014 saw the rise of the ALS ice bucket challenge, which set out to increase awareness of amyotrophic lateral sclerosis (ALS), also known as motoneurone disease. By August, everyone was chucking a bucket of freezing cold water over their heads for ALS or another charity close to their hearts. Mark Zuckerberg, Susan Boyle, Bill Gates and a host of other celebrities got involved and I'm sure you did too. In fact, Click's own Matt Bullas took on the challenge, building awareness of ALS and raising £64 for Claire House Children's Hospice in the process.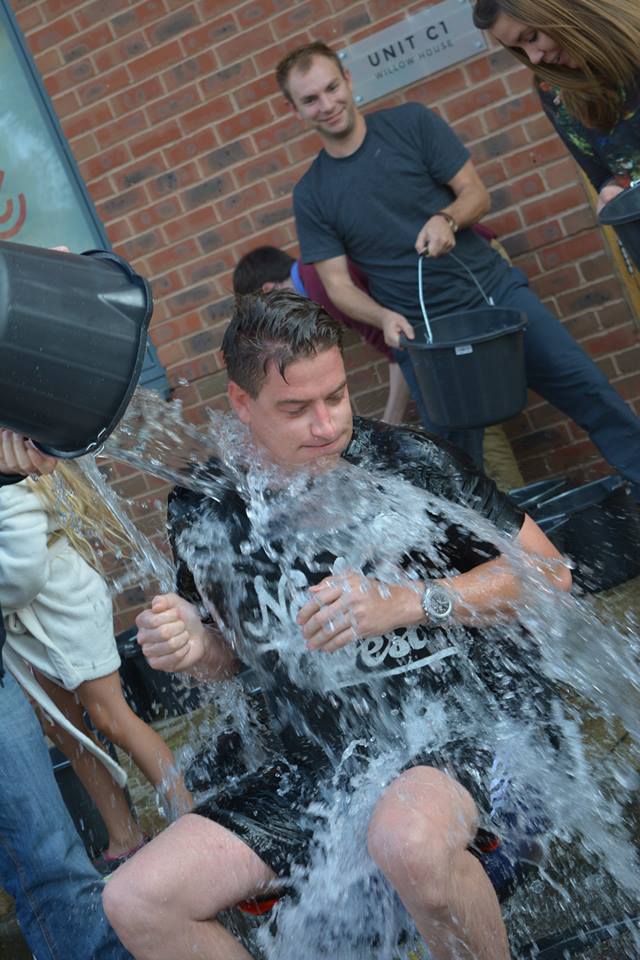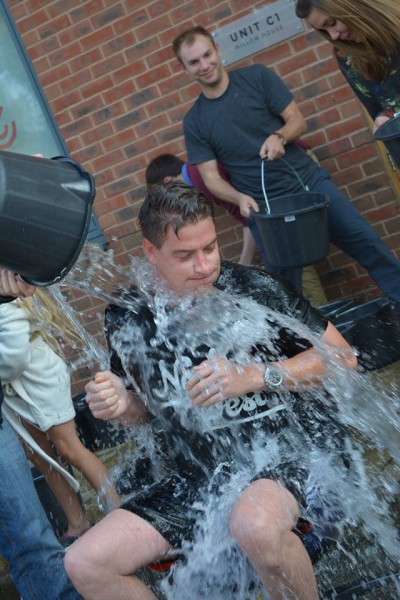 Of course, YouTube was later flooded with a curated edit of the best ice bucket challenge fails. The one below has received 1,216,957 likes at the time I'm writing this. Then came the social media backlash, where the public raised the issue of the ice bucket challenge leading to mass water wastage. And what happened as a result? A deluge of donations for Water Aid. Genius or frivolous, the challenge achieved what it set out to achieve, and then some: it raised awareness and money for ALS and other deserving charities. In fact, the ALS Association reported that it had quadrupled its fundraising target between July 29th and August 12th 2014. Not bad!
Steal the strategy:
Timing is important: The ice bucket challenge was timed to perfection. The campaign kicked off in the warmer summer months when work schedules were more relaxed than usual, children were off school and the extended hours of daylight left more time (and little excuse) for people to take on the challenge.
Make it personal: Watching celebrities take part in the ice bucket challenge was fun, but watching your friends and family take part in it was even more engaging. While sponsoring your friend's charity skydive might make you feel good, taking part in this relatively easy fundraising challenge made you feel even better.
Create a sense of urgency: The 24 hour deadline for completing the challenge once you had been nominated urged people to do it straight away. The result? The ALS message spread like wildfire.
Celebrity involvement: Getting celebrities involved in the campaign helped the ALS Association to engage viewers and build an element of trust between the charity and the viewers, resulting in more people tackling the challenge.
Social media: Get it trending on Twitter with a trusty hashtag and you're onto a winner. This is what happened with #IceBucketChallenge.
---
3. Compare the Market's Compare the Meerkat Adverts
Perhaps one of zee most populars commercials of recents is Compare the Market.com's Compare Zee Meerkat campaigns. Since aristocratic meerkat Aleksandr Orlov first graced our screens in 2009 in his Hefner-style smoker jacket, we've followed the trials and tribulations of the meerkat family and of course, Orlov's relentless frustration at people confusing comparethemarket.com with his website, comparethemeerkat.com.
Through the adventures of Orlov and his family and friends, Compare the Market's ad agency, VCCP, has seamlessly transformed the somewhat dull topic of price comparison into a viral marketing campaign, making Compare the Market the fourth most visited website in the UK and a £220 million empire. By forging a relationship with the nation's favourite street, Meerkovo became twinned with Coronation Street and the meerkats began appearing at the beginning and ending of our Corrie episodes, which increased brand awareness from 0% to 84% in just three months.
Steal the strategy:
Strong branding: October 2010 saw the release of Aleksandr's autobiography "A Simples Life: The Life and Times of Aleksandr Orlov", which has since outsold the autobiographies of Cheryl Fernandez-Versini (Cole), David Jason and Russell Brand. As with all marketing campaigns, the branding should be kept consistent across all collateral. Compare the Meerkat is a model example of how this should be done.
Freebies: One free meerkat toy is given away with each policy purchased via the website. With everyone wanting to get their hands on one of the famous little cuties off the adverts, who wouldn't use comparethemeerkat.com when they need a price comparison website?
Social media: Just like Monty the Penguin, Aleksandr and friends' stories continue across social. Aleksandr boasts 67.4k followers on Twitter and almost 900,000 Facebook fans. According to a study by Admap magazine, Aleksandr has become more influential on Twitter than Boris Johnson and Hilary Clinton. Amazing!
Partner up with another influential brand: The popularity of the Compare the Meerkat adverts soared when they began featuring before and after the nation's favourite soap, Coronation Street. This helped to spread the meerkat story to a mass engaged audience, build an element of trust between the brand and the viewers and of course, increase ROI. Indeed, as mentioned above, awareness of Compare the Market grew from 0% to 84% in just three months since Corrie became twinned with Meerkovo.
---
4. WestJet's Christmas Miracle
The Canadian airline WestJet took the feel-good Christmas giving vibe to new heights in 2013, with its Christmas Miracle campaign. Before boarding a flight from Toronto and Hamilton airport to Calgary, 250 passengers were asked what they would like for Christmas by a virtual Santa. Some asked for expensive items like TVs, the little ones asked for toys and one guy asked for socks and underwear. Once the flight had taken off, 150 dedicated WestJet elves frantically purchased the gifts that each passenger had asked for and festively wrapped them.
Once the passengers landed in Calgary and made their way to the luggage carousel, it wasn't just their suitcases waiting for them. The joy on the passengers' faces when they were presented with their dream gifts was priceless. And the guy who asked for socks and underwear – the look on his face when he receives his dream gifts is even more priceless. This Christmas miracle received 12 million views in three days of being published on YouTube and at the time of writing this blog post has 36,557,689 views. According to WestJet, the Chirstmas Miracle video is 2013's most successful viral ad in Canada, viewed in over 235 countries – that's more than one view for every person in Canada. So, what strategies can you steal from the campaign that achieved a 100% traffic increase, a 77% rise in bookings and an 86% increase in revenue compared to the previous year? 
Steal the strategy:
Connect with customers on an emotional level:  As demonstrated by Compare the Market and John Lewis, consumers respond well to emotionally driven content and are likely to share it with others.
A strategic communications plan: WestJet amplified its message through promoted posts on Twitter and Facebook to help build momentum around the campaign. It certainly got people talking…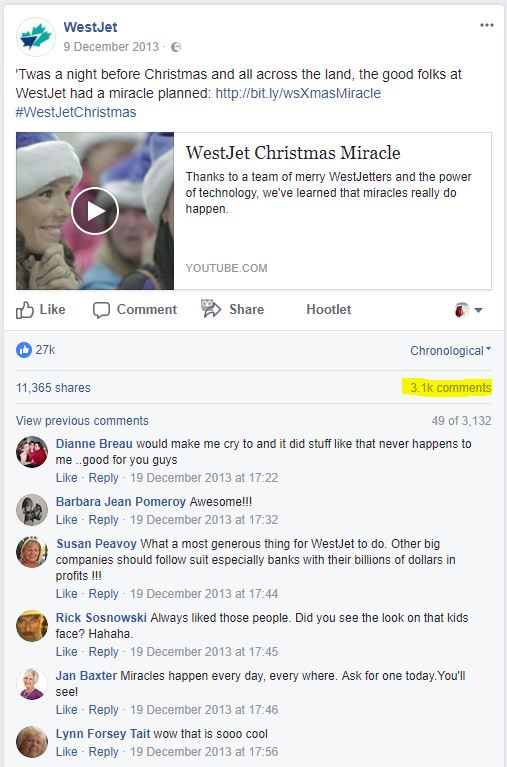 Be a personable brand: WestJet's branding showcases the airline as a fun company that cares about its customers and employees and the Christmas Miracle video conveys the caring, generous, personable side of the brand. Ultimately, whenever a customer thinks of WestJet, they feel an emotional connection with the brand. Building sentiment between your brand and your target audience doesn't need to be achieved through an expensive viral marketing campaign, but simply demonstrating to your customers on a daily basis that your brand is full of caring people is a great way to etch your brand's name into the public consciousness and build a positive image.
---
5. Google's Google Maps Pokémon Challenge
We can always count on Google to make us giggle with a memorable April fool and 2014's popular prank didn't disappoint. Google released a spoof film that invited viewers to journey across the digital terrains of Google Maps to locate Pokémon characters. The winner would get the opportunity to become a Google employee (but not really, because this is obviously one big prank.) The Vice President of Google Maps, Brian McClendon made a cameo in the ad, announcing "we've prepared the most rigorous test known to man, to find the world's best Pokémon master." To-date, the video has 16,171,855 YouTube views and according to Econsultancy, it received 480,000 social shares and 600m social impressions. From the gullable people who believed it, to the confused people who simply didn't 'get it', this campaign certainly created a buzz around Google Maps.
Steal the strategy:
Set a challenge: Who doesn't love a good challenge? Setting one on Google Maps encouraged users to download the app so they could take part – objective fulfilled!
Know your audience: '90s kids will no doubt remember the Pokémon phenomenon, while their parents and grandparents probably will too. Then we have today's generation of children, for whom Pokémon and its memorable 'Gotta catch 'em all!' slogan is still going strong. Incorporating  Pokémon into the challenge captures the attention and minds of children and adults alike, creating a sense of fun for children and a notion of nostalgia for adults.
---